If you have any comments
you would like to pass to Maura,
please go to the Contact Maura page.
Testimonials
Here is some of the feedback I've received about my classes. Thank you very much, I do like to hear what you think. If I include your comments and you'd rather remain anonymous or would rather not have your comments included at all, please let me know.


Linda's 60th Birthday Zumbathon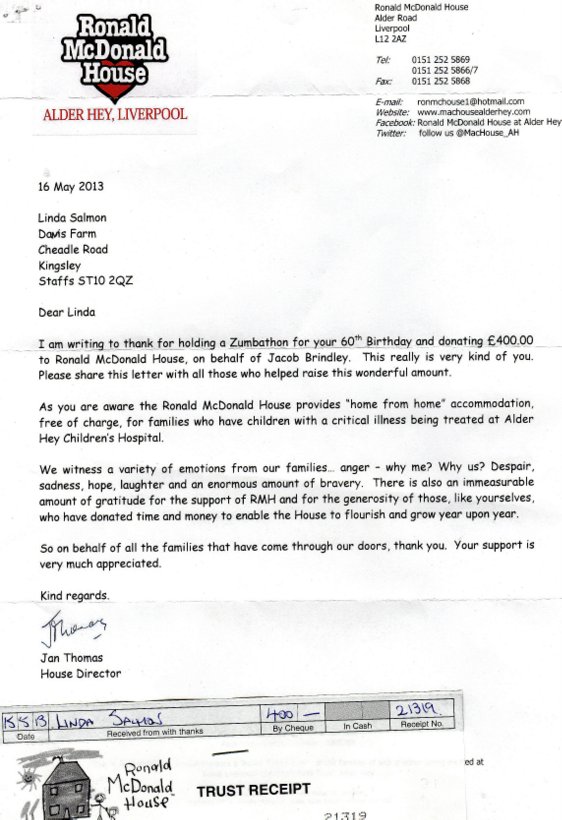 Jan Thomas
Zumba class
Hi Maura,
Just to let you know we really enjoyed the class tonight. it's definitely the best we've been to!!!
See you next week
Hils and Wendy
Christmas party 2012
Hiya, thank you sooo much for a fab night once again it was brill, had lots of fun trying to do Zumba in my heals not as easy as it looks in those, thanks again, see you in 2013.
love Nat xx
Zumba with Maura
Hi Maura,
Thank you Maura for all your support and help in getting me in shape for my wedding! I have loved every second of Zumba, fab music, fab moves and fab company. You are without doubt the most efficient motivator and I couldn't have done it without you.
To anyone who is hesitant about joining the Guild Hall group, GO FOR IT, you won't regret it and getting fit has never been so much fun!
I will miss you very much and just hope that someone in Colchester does a decent Zumba! Lots of love,
Louise xx
Good luck Louise and Martin on you future life together. It has been an absolute pleasure working with you, and I will miss you very much too

.
Keep yourself fit & stay happy.
Maura xxx
zumba class
Hi Maura,
My daughter and I joined your class a few months ago. I don't know if you remember us but we both had concerns, my daughter had just had a baby (c section) and a problem hip due to chemo she had for cancer some years back and I also had problems with my hip. You told us to go at our own pace and see how we felt after a couple of sessions.
Well I can honestly say, I have never felt better. My hip has improved vastly, which can only be down to the Zumba as I have not altered my lifestyle in any other way and my daughter is slowly losing her baby weight but loves the class so much that she is considering attending two classes a week.
Thank you so much, you really are an inspiration, and so fit!!!
Val
Zumba
Hi Maura just wanted to say since discovering zumba from my mum and younger sister I have loved and still love coming to your classes, they're so much fun and more enjoyable than any boring gym!! Lol

.
PS Think you should do more zumbathons. They're ace

Nat xx
Got the buzz
Took a long time for me to join in but not cant imaging not doing it! really enjoy it and look forward to coming it really gives me a buzz. You have a fantastic way of making it fun and motivating. cant wait to get my t-shirt !!
Exercise no, fun fun fun yes!!!
Thank You.
Tess
Zumbathon
Congratulation Maura on your successful Zumbathon last night. Didn't manage to get there until 7pm and really got a buzz from joining such a full hall of people on the crowded dance floor and the excitement of it all. Just keep up the good work, you're unstoppable!!!
Ann
Zumba
After being told about the class my mum, we decided to give it go. I don't really do much excersise but I love zumba and can't wait to go to each class. I have also lost a stone in weight since going so it has definetly changed my life. I have keep it up for a whole year now and I'll be coming for many more years.
Charlene
Love your classes!
Hi Maura
Just wanted to write a testimonial to support your classes and website.
I have been going to Maura's zumba classes for a year now with my sister Julia and my best friend Sam,(even after my brother-in-law bet I wouldn't stick at it for more than a couple of months). We certainly showed him!
We love the class, especially the high impact songs like Pendulum and the more recent "Moves like Jagger".
Getting fit and having a blast doing it!
Thanks Maura, you rock!
Ruth
TV celebrity in the making
An inspiration to us all - have always said you should be on TV!
Yvonne
zumba
I'm a new convert! There aren't many exercise classes where I've smiled all the way thru'! thanks Maura
Val
zumba
WOW love it great way to keep fit, fun too, great music, Fantastic Maura.
Alison
ZUMBA ON TUESDAY NIGHTS
There are three of us who come to your class on a Tuesday night and thoroughly enjoy it - the atmosphere, the loud music and dimmed lighting all add to your fantastic choreography.
However, when we came to the 6.00pm class last Tuesday, I don't know if you noticed how full it was. I know it all adds to the tone and mood of the class but on Tuesday, we all said that it was somewhat uncomfortable and after speaking to some others they too shared the same view. In fact I was talking to someone who could not make the Tuesday class and when I said how full it was she remarked "Oh I'm glad I didn't go then - I hate it when it's like that."
The reason for my email Maura is we were all chatting (and when I say all - its only about six or seven who were included in the discussion). We wondered if you wanted to consider having three classes - each class lasting half-an hour. The first one could start at 6.00 to 6.30, the second class at 6.45 to 7.15 and the third one at 7.30 to 8.00. Perhaps you could charge £3 or £3.50 instead of £4.00. We give the class all we've got in the first half-hour and start to become weary after that time anyway. The only problem is that you have to do it three times!!!!
Tell me to mind my own business if you like.
anon
Thankyou for all feedback and I was sorry you felt uncomfortable in a large class. The idea for two classes was to solve the over crowding problem but it seems that the 6pm is the most popular class.
I would suggest trying the 7:00pm as an option or the Friday class, both less populated.
The idea of three 30 minute classes unfortunately would not work, you cannot teach a structured cardio vascular fitness class in less than 45 minutes, otherwise you risk medical issues such as blood pooling in the legs, it simply would not be safe. My aim is to deliver a safe class that is enjoyable to all and I'm sorry if anyone feels uncomfortable. The fire regulations do say that I can take up to 200 people legally in the Guild Hall!!! Don't worry that won't happen.
Thanks again for the feedback...
Maura
Testimonials!
Hi Maura
I sometimes come to Zumba feeling a bit glum and down in the dumps if I have had a bad day, but after 45 minutes Zumbaring I feel a whole lot more light hearted!!! Thanks for such a good class.
Sue
Thriller
Hi Maura
We would just like to say thank you for 'Thriller', it was great, and the Monster Mash was a bit of fun.
L@@king forward to next week.
Ann and Zoe XX
Zumba
If you want to get fit, have a dance and have a laugh then Zumba with Maura is the place to be. I have been going now for nearly 12 Months and absolutely love it.
Thanks for a Great work-out Maura
Karen Shaw
zumba
you said it was awesome, i wasn't sure whether or not to give it a go as i don't do 'dance' but...........eventually i went for it, tucked away at the back! You were so right it is awesome! love it! its addictive! and i am now nearer the front, result!.........thank you maura for inspiring me every week and making keeping fit so much fun x
lynne
first ever success
this is the only fitness based activity I have ever stuck to for more than about 2 months. 8 months since Maura started I look forward to it every week, its too much fun to be called exercise.
Lisa
Thanks.
I have tried various classes over the years and usually clock watch and get bored. This is not the case with your zumba class. I have never had so much fun whilst exercising, and the time goes too fast! Just had a baby and have lost over a stone in weight, so thanks to zumba...got a couple more stone to go, but the music in your class is so upbeat and fun, I think I will soon be there. Thanks alot!!!
Claire Tatton
TESTIMONIALS
Maura's classes are so much fun, you don't realise that you are exercising.
KAREN & SUE
zumba
rumba and salsa
bop and hip-hop
we step and we twist
and jump till we drop,
but signs of a six pack
are starting to appear,
where once was a tummy
that had seen plenty of beer!
Alison
We love it!
We really love your zumba sessions. Its a fun way to keep fit. Thanks and keep up the good work!
Julie and Alice
zumba
me and emma age 8 love your zumba class thanks maura
clare
If you have any comments you would like to pass to Maura, please go to the Contact Maura page.