The Catholic Guild Hall, Cheadle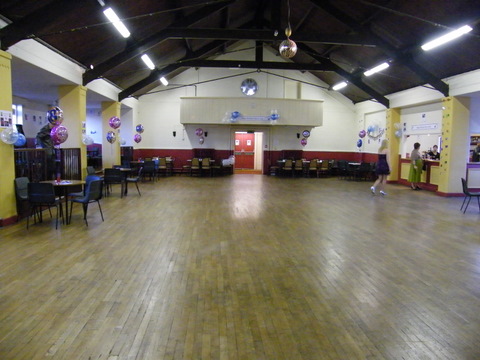 The Catholic Guild Hall, Cheadle was originally owned by the miners in Cheadle, there were several open cast mines in Cheadle and the miners had no social club of their own, so for every ton of coal taken from the Leek Rd mine, the miners each put a shilling in a box to save for a social club and the hall was built around 1928.
The mines soon got in to difficulties and were forced to close, the local catholic priest bought the hall for the town for various functions, and has remained the property of the catholic church ever since.
Over the years the hall was host to many of the big dance bands, and people would come from all over the country to dance on its legendry sprung dance floor.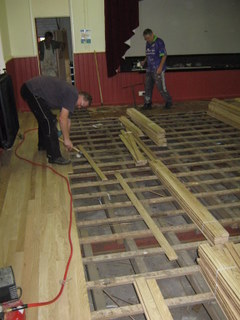 I love teaching in this hall, it was my childhood 'home', my dad was caretaker of the hall from 1964 – 1979 and we all lived in the house next door, I was born in Cheadle in 1963 and we all moved to the 'Guild Hall' house in 1964, I lived there for 22 years. My two sisters and I would play in the hall and help dad to do the cleaning and tidying up after dances, wedding etc. I know every nook & cranny of that hall, so really there was no other place where I wanted to do my Zumba classes.
The floor has recently been replaced, by the same company that put the original floor in, and I was lucky enough to see underneath the floor, all the mechanics that make it "sprung"... Fantastic.

The Guild Hall is on Tape Street in Cheadle.
It is still used for functions today, weddings, birthdays etc. to book the hall ring 01538 750830. Or go to www.stgilescatholicchurch.co.uk.